The competition originally known as the "Ryerson Invitational Thrill Design Competition" was renamed with the renaming of the University, and is now known as the Toronto Metropolitan University Thrill Design Competition. In addition, in 2022, we introduced an Open Qualifying (OQ) competition in the summer, to select teams for invitation to the TMU Thrill Design Invitational, taking place at Universal Orlando Resort.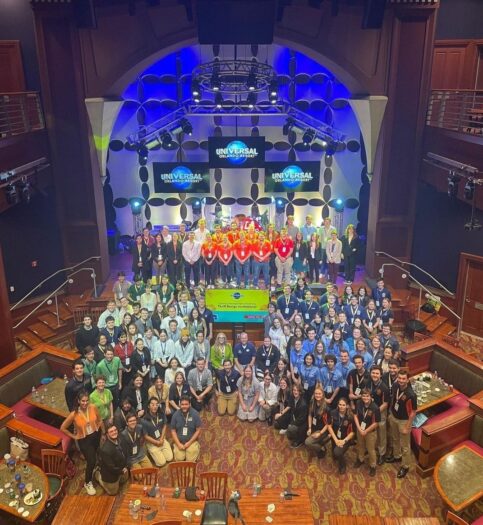 In 2023, we retain the same two-stage format. A record nineteen teams received invitations for two or three challenges each, based on their Open Qualifying submissions. Challenges include specific assignments related to mechanical design, safety and accessibility, interactive attractions, and several attractions design challenges involving NoLimits model, complex story, technology, and environmental constraints. A completely fictional requirement to replace an assigned area with new attractions unifies the multiple challenges.
Participants check in at a Universal Orlando resort on November 8, for a welcome ahead of the opening session on November 9. With the good grace of the hurricane situation (we had to revise our activities in 2022!), participants have a facilitated park walk before reconvening for presentation of selected OQ projects and reveal of the seven challenges. While the NoLimits challenge is partially disclosed to teams ahead of time, some changes and additional requirements are included at the competition reveal. Following the reveal, teams determine their preparation strategies and scatter, into the parks for more research, or back to their hotel headquarters for design preparation.
Fortunately, the competition swag includes an unlimited beverage mug, because teams dig in for some late night work and early morning presentations. The first challenge is presented the next morning, November 10, and another that afternoon. Three challenges are presented on November 11, and two more on November 12. Juries of industry experts from Universal Creative, Universal Destinations and Experiences, and manufacturers and suppliers provide feedback and assessment of the presentations.
Participants are also registered for the IAAPA Expo, which kicks off 4km down the road on November 13, helping pave the path for future attractions industry careers in a variety of professions.
We welcome inquiries from additional university teams to join the waitlist for the 2024 competition by contacting Ms. Shipman-Gervais [asgervais AT torontomu DOT ca]. Undergraduate and graduate students may participate if they are full time students at the same university, including its affiliated colleges, which does not already have a team, and meet other eligibility criteria. Full information about the 2024 OQ competition including eligibility criteria and costs will be provided in Spring 2024 directly to past and prospective teams.